Terms & Conditions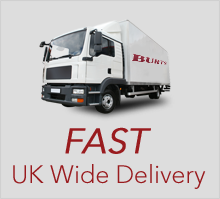 This website is operated by CGK Trading Ltd and all orders are subject to UK law including the Distance Selling Regulations.  
The site is for sales to business and trade customers.  If you are a domestic consumer please be aware that you are ordering a bespoke cut product that can not be returned unless faulty.
We process orders as they are received on usual working days Monday to Friday.
We require payment of the whole of the price for the goods that you order before your order can be processed. Once payment information and order details have been received we will confirm that your order has been received and will then process the order, you will receive an email to this effect. The acceptance of your order will then be confirmed by a further email or telephone call once stock availability has been checked.
Availability
Whilst the website may show the item as "In Stock" this is subject to various factors (including damage items, mis-labelled products, supplier issues, etc).  If an item is found to be unavailable we will contact you as soon as possible to offer an alternative or a full refund.  
Price & Payment
Prices quoted on the web site EXCLUDE VAT at the current rate.  Quoted prices do not form part of a legally binding contract until our acceptance of your order.
Cancellation
If for some reason you wish to cancel your order before delivery please let us know as soon as possible. If the goods have not been cut we will cancel your order and refund full payment via your chosen payment method.
If the goods have already been cut by either ourselves or our suppliers we can not cancel the order as the item is made to your bespoke sizes.
Substitute Goods
If the product you order becomes unavailable we will contact you at the earliest opportunity to arrange a full refund or allow you to select a similar product with any difference in price being collected or returned. We do not supply substitute products without your approval.
Colour
A great deal of effort has been made to ensure the colours of products shown on this site are as accurate as possible. However, colours may appear slightly different from monitor to monitor.  Please request a free sample to ensure you are happy with the colours as orders can not be returned due to colour not being as expected.
Property Rights
CGK Trading Ltd and/or our suppliers own the copyright, trademarks and all other intellectual property rights in all material and content on this website.
The use, download, copying, publishing, transmitting, reproduction or otherwise making available any of the material or content contained on this site for commercial purposes is strictly prohibited.
Delivery
Our chosen carriers are national companies and are very reliable. However it is possible for deliveries to be delayed we can not accept any loss for delayed delivery. Delivery is made to 'kerbside' - this means that you are responsible to take the items from the vehicle that is delivering them. Whilst most drivers are happy to help they are not contracted to do so.
Our delivery is applicable to most UK mainland postcodes - if you do have a Highlands or Islands postcode we will contact you with a quote for the additional crriage that will be incurred.  If the cost is not acceptable we will cancel your order and make a full refund.  Please note we will not order your products until we have discussed any extra delivery.
Damage
All deliveries are automatically signed for as "delivered in good condition". Please be sure that the items are in good condition before signing for them.
Suitability
We give as much advice on the site and over the telephone as possible but the ultimate responsibilty for ensuring the product meets your requirements or any requirements of Building Control or other Health and Safety or advisory bodies is upto to you to determine and we can not be held responsible for any loss incurred as a result of a non suitable product being purchased.