How to Measure New Stair Nosings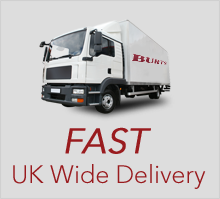 The large majority of stairs are easy to measure for new nosings. Our industry leading website allows for easy ordering and you can order in either metres or centimetres.
The best way to visualise how to measure for a nosing is to imagine that you are going to cut a piece of wood to fit between the side of the stair edges with the smallest gap possible - this is exactly what your nosing should do.
We suggest using a steel tape measure or if available a digital laser measure and taking the measurements in metres down to 3 decimal places or in centimetres to one decimal place (both are to the nearest mm). So if your step measures as the picture of the tape measure below the size would be 1.072m or in centimetres it would be 107.2cm
Once you have your list of sizes and chosen the appropriate nosing profile you are ready to order!
Choose the product from our selection and then select the colour of insert you require. This will then allow you to enter into a box on the screen how many nosings you need. This will then provide you with the corresponding number of boxes to fill in your sizes, these can be done in either m or cm.
Please note - This above guide is designed for the large majority of staicases - if you have curved stairs a template is required as the nosing is made to shape. We can give a guide price for these types of nosings and if this is acceptable we can arrange an on site survey